I said I would send you a picture of my dog about 2 years ago, I finally got a picture of him on a digital camera. This is "HRCH
Sir William Wallace
Bewitched
"  Callname "
Braveheart
" this is Micks Brother, I have only run him in UKC/HRC hunt tests he has 275 point at present.
Greg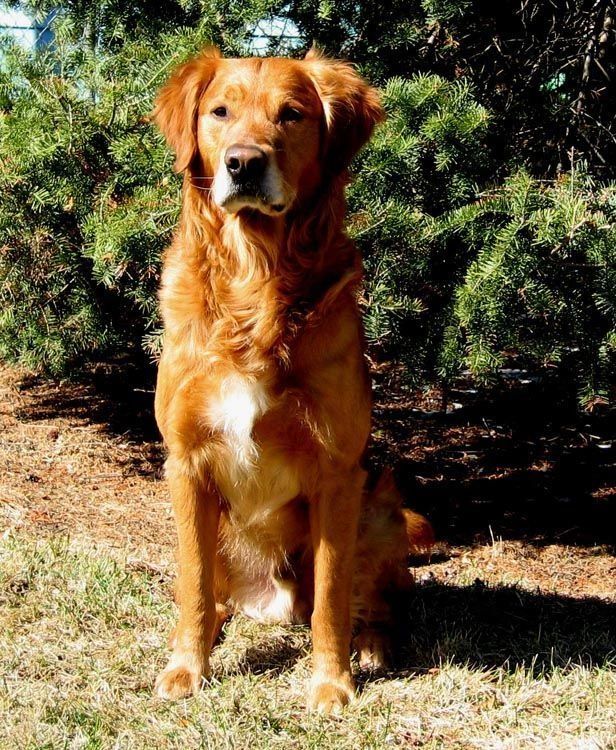 Have been meaning to get this info to you for some time. "Tor" got his
JH in late October! He had been entered in a total of 5 hunt tests,
failing in only a single retrieve at the 4th hunt test. I guess this
makes him less than 10 months old when he walked off with the title. I
really can't take much credit for this...genetics and 4 months at Miners
Kennels in
Sheridan, IL
actually did the trick. The Miners, Nancy and
John, really like him. He is a high energy dog that is tough to keep up
with. Frankly, I believe that if I had tried to train him myself, we
would all of us dealt with disappointment. He is very smart and collar
training worked like a dream. My biggest problem is that I have been
unable to really hunt him this Fall. The ducks are still up by you and
the locals around here have seen all the decoy spreads and identified
all the blinds and are choosing not to offer themselves up for the
"sacrifice." Have been out a few times for pheasants. Tor has a way to
go to actually learn to hunt for the birds. He is great on retrieving,
but the finding and flushing seem to be more accidental than on purpose.
At first I was concerned as I thought about how quickly my other
Goldens
had taken to pheasants. Upon reflection, I believe that the years and
fuzzy memory create a fiction as to how good they were as very young
field dogs. I think that I remember only the good and none of the
consequent swearing and yammering that most certainly existed in their
early event...
You were right on the money with the physical qualities of Tor. He
is very red, short coat and small. I don't think he goes 55 lbs. It is
interesting to me that if he is typical of the hunt test, field trial
dogs, then they are "wired" totally different from all of the other
Goldens that I have owned. Tor is electric and very, very active. I like
him and am really looking forward to watching him "grow" into the great
field dog that he will become. Yet, he is as sweet as only Goldens can
be. Thanks again.
Best Regards,
Steve
Just wanted to let you know how Reggie is doing. At just over 1, he still
has his puppy attitude and is full of energy. Just before he's ready to plop
down for a nap, he goes nuts (we call it "scooters") and charges around like
a colt, kicking and growling. It's just play, but very crazy! He turned out
to be an amazing swimmer and leaps off the dock like he's doing some kind of
kung fu jump. And he can paddle around for hours. His coat started out
really curly, but has flattened out and looks like it will stay fairly
short. He's tall and all angles - his neck and leg muscles are pure power.
He's great on walks (with the
gentle leader
, of course), loves to play with
the other dogs in the neighborhood and is a champion rawhide chewer. He's
also fond of his kong, and spent many hours this summer rolling it under the
couch, much to Mike's ongoing frustration! If there's something in his
mouth, he's happy. Mike has been home during the day since April and the two
of them are practically inseparable. (Sometimes so much that they drive each
other nuts!) So he's definitely Mike's dog.
He and our Siamese cat have almost become friends. The little cat, however,
constantly taunts him. She wacks him on the nose (doesn't use her claws)
when he gets too close and then hops up on a high place and lords it over
him. Sometimes we don't even turn on the TV, they're so entertaining.
Speaking of TV, he loves to watch it - is that something that Taz or Mick
do? It's so odd! His favorite appears to be sports, but that may be
attributed to how much we watch...
He's been amazingly healthy after we figured out to switch him to Iams when
he was a pup. Every morning, precisely at 7:15, he alerts me to the fact
that it's food time. He SCARFS his food and we're amazed that he has time to
even chew it. Absolutely no health problems, not even ears and just the
normal amount of scratching.
He's a great dog and we're so pleased with him. Thanks very much! Hope
you're all doing well and enjoying your fall activities.
- Suzanne 
Just wanted to give you an update on Breaker. He is almost as big as my
other Golden, Jed. His curly coat is getting a little longer so the curls
are loosening up a bit. For a while he was looking like a red version of
your black water spaniel. The training is coming along very well, he is good
tempered, well mannered, and very eager to learn. He is a joy to work with.
I took him as an observer to a local pheasant hunt this past weekend. I
hunted with a friend over his dogs. After the hunt we let him retrieve the
dead birds
, he did so well that I took him back to hunt
on Sunday
. It was an
8 bird tournament. He missed the first two birds(I don't think he new what
he was looking for yet.) He flushed and retrieved the third bird. After that
you couldn't stop him. He flushed the next five birds and retrieved three of
them(I missed two). We rehunted the first section on the way out and he
found one of the birds he missed. We worked the area over and over for the
last bird but found out it had walked away after we went by it originally.
Seven flushes, Five retrieves all to hand and we both had a blast. No
ribbons or prize money this time around but I have a few birds in the
freezer for training now. I am going to try again in april at a different
tournament. I'll keep you updated.
Dave